VYOMA YOGA HUT - YOUR ULTIMATE YOGA ESCAPE IN BALI
Standing within the nature-given tropical verdant and breezed by the ever wanted Ubud's fresh air, Vyoma Yoga Hut at The Udaya gives a whole new holistic experience through our yoga practices. From Sanskrit, Vyoma is derived with an essence of sky and heaven to represent our hut that directs to the vast sky. The sanctuary itself is made to help others to find peace and find deep connection between their mind and soul. Hence, when observed closely, the shape of our logo was beautifully shaped from basic yoga movements to represent the beginning of ideal yoga journey starting from here.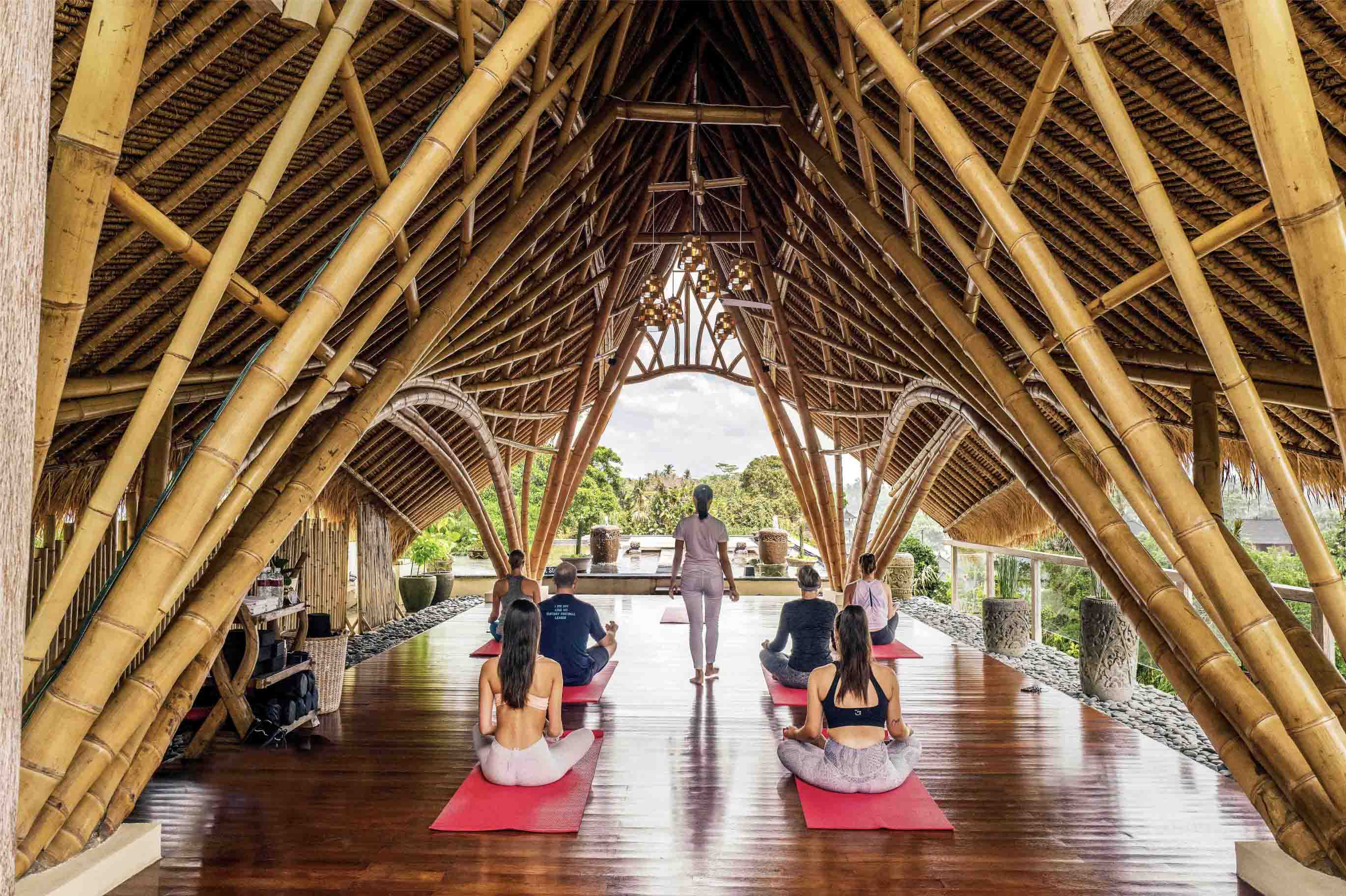 Sky Yoga Hut
The beautiful median between human and the vast sky, giving a brand new experience of solitude and gratitude towards nature. Located at the rooftop of our resort, the bamboo-structured Sky Yoga hut overlooks the entire property and its paradise of tropical greenery with a maximum capacity of 15 people.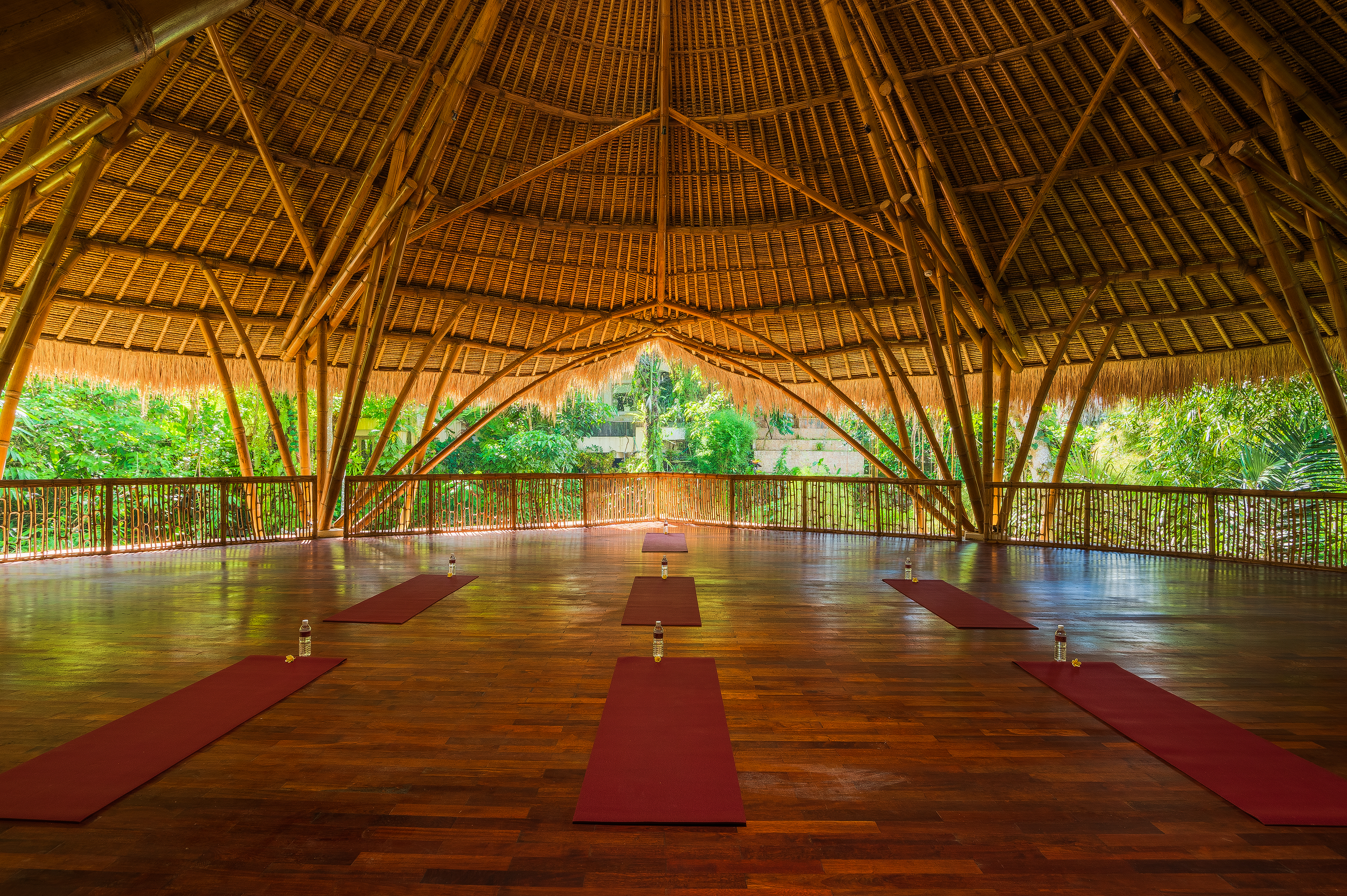 Riverside Yoga Hut
Surrounded by lush tropical greens, our Riverside Yoga Hut is an ideal space for private or group yoga sessions in a bigger number of a maximum 40 people. Enjoy through the relaxing session as you close your eyes, breathe in the fresh air, and absorb the appeasing sound of streaming current down the valley.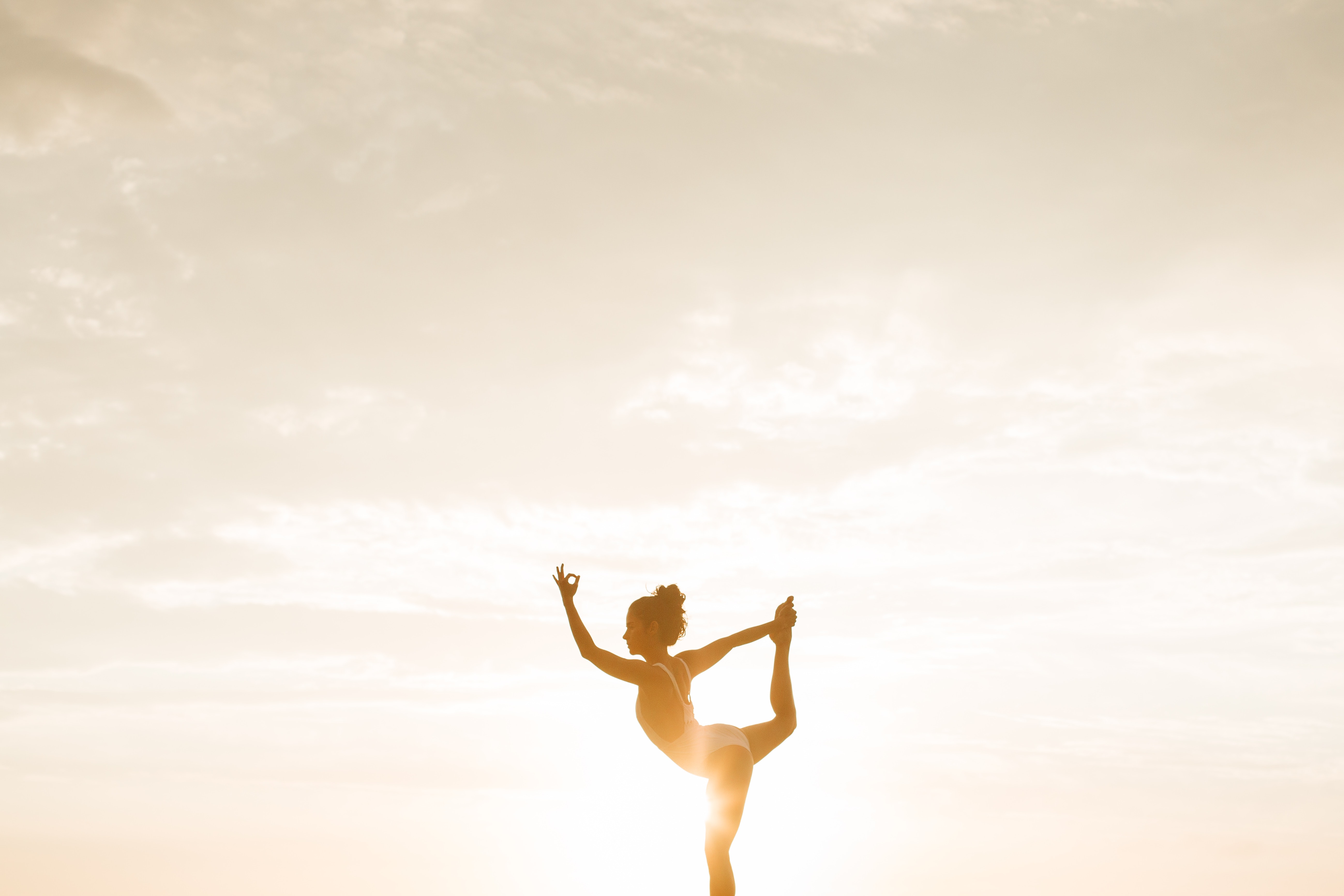 Yoga Classes
Various yoga classes in the heart of Ubud to choose and explore with our experienced yogis.

Vyoma Yoga Hut is now open for public and we are ready to accompany your wellness journey with our daily yoga classes

Hatha Yoga
Creating balance between strength and flexibility, Hatha Yoga is a yoga practice that focuses on one pose at a time. Hatha Yoga involves many breathing techniques and meditation, also making it a perfect method of relaxation.
Yin Yoga
A slow-paced and meditative yoga exercise that gives you space to tune into both your mind and physical state. Yin Yoga targets your deepest connective tissue with longer-held poses than in other styles. Yin Yoga is effective in cultivating the energy flow throughout your body.
Gentle Yoga
A gentler form of Hatha Yoga performed at a slower pace and less intense poses. It involves extended time for meditation, breath work, and relaxation. Encouraging modifications to assist people of all fitness abilities to move at comfortable pace and enjoy the benefit of yoga without putting themselves at risk of injuries.
Vinyasa Yoga
Challenge yourself into a Vinyasa Yoga, also known as flow yoga. It is a creative and contemporary yoga style that encompasses a wide variety of yoga types. In Vinayasa, each pose is synchronized together with the breath in a flowing sequence.

Ashtanga Yoga - Half Primary
Ashtanga is a dynamic and athletic form of Hatha Yoga that linked together with breath and includes a fixed order of poses in continuous sequence. It requires an intense level of strength, flexibility, and endurance. The half primary series contain the core postures of the full primary series, but some of the more tricky ones are taken out, allowing modifaction for one's needs.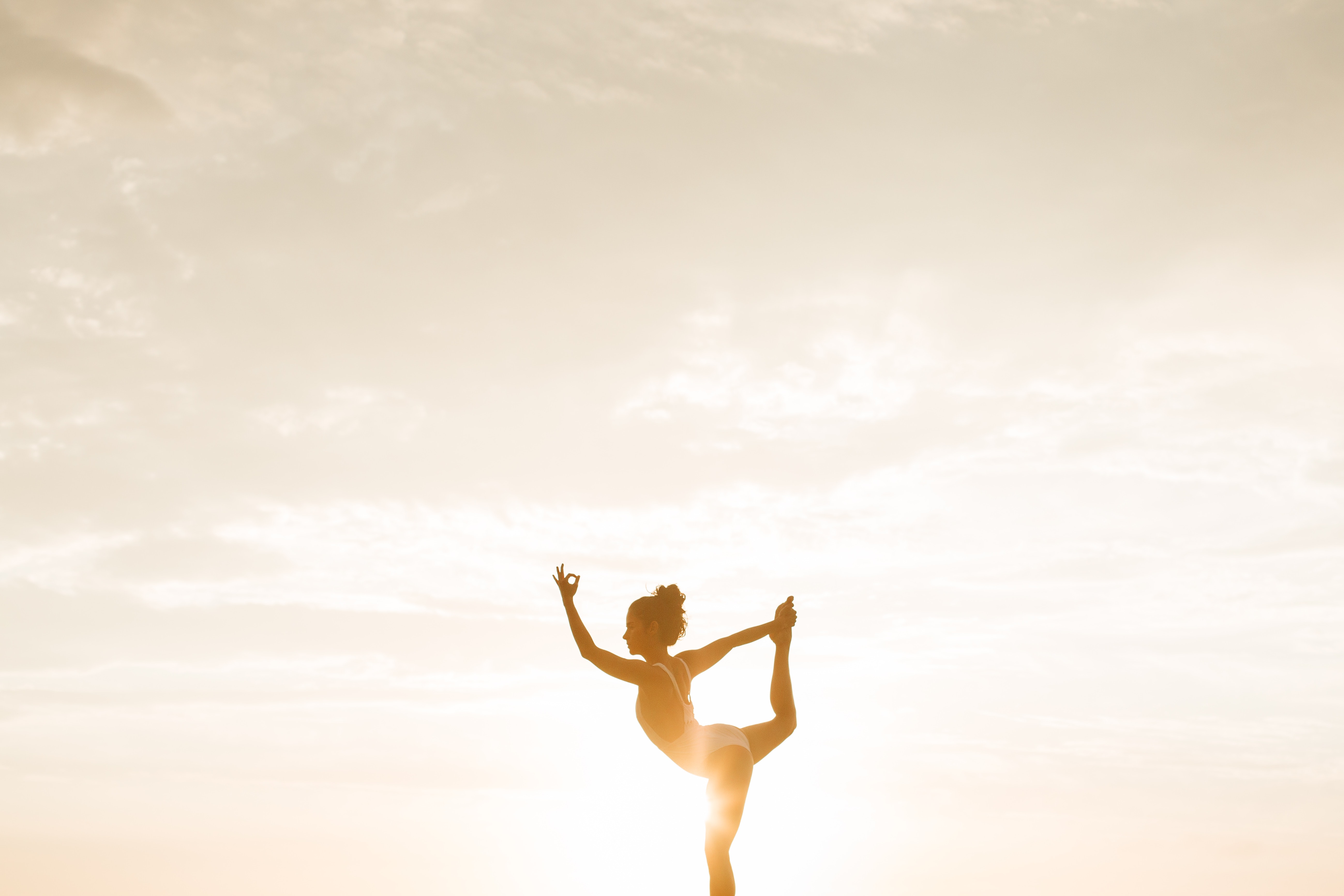 | Class | Time | Day |
| --- | --- | --- |
| Gentle | - | |
| Ashtanga Yoga Half Primary | - | |
| Yin | - | |
| Hatha | - | |
| Vinyasa | - | |
Ubud Yoga Retreat
Enter the journey of yoga escapade within the blissful uphill nature of Bali Island and discover your realest purpose.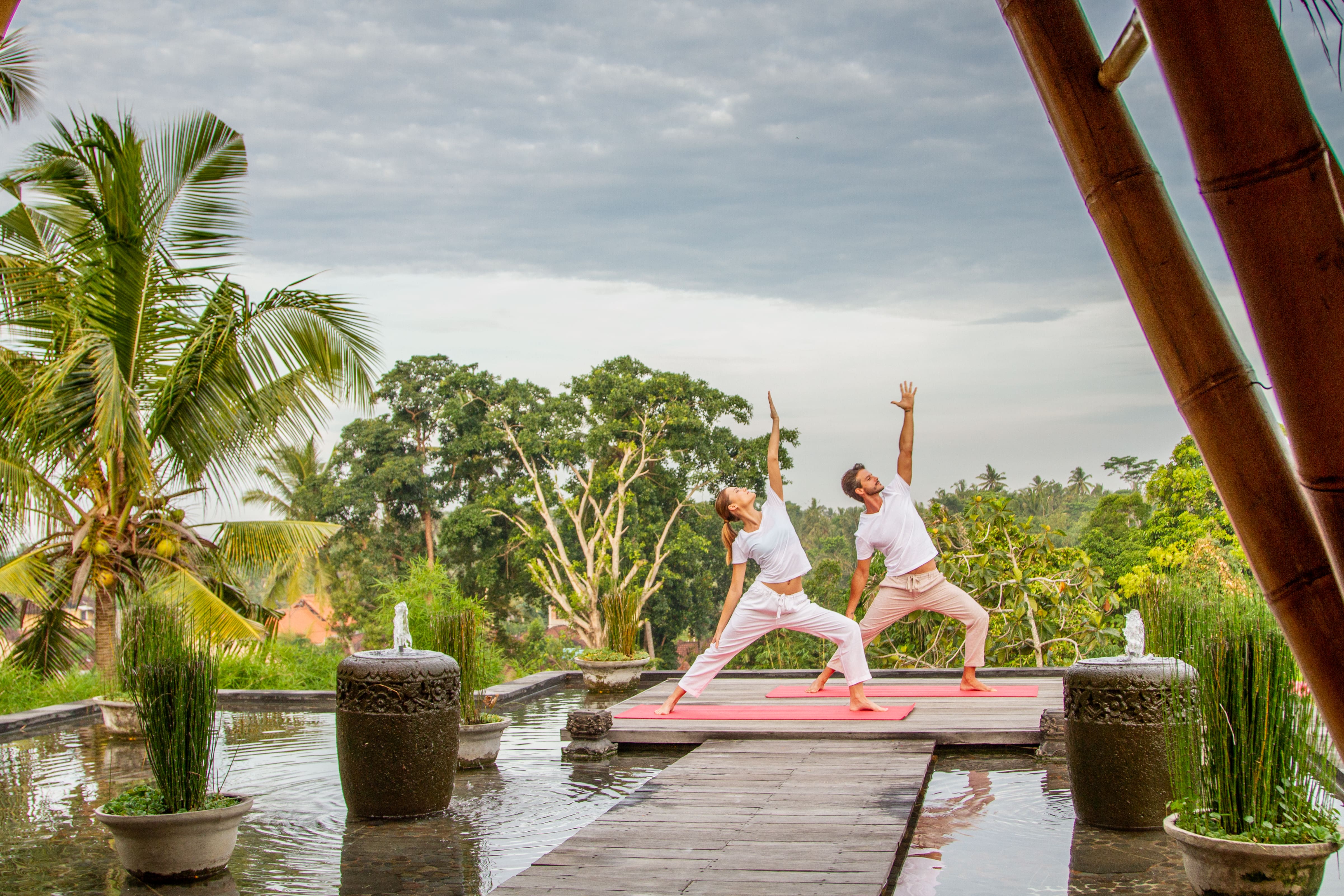 Yoga Retreat Package
Escape into a moment of ultimate relaxation and go through a once in a lifetime self-discovery journey within the beauty of Ubud's nature at our resort.
Read More
Yoga Retreat Package
Escape into a moment of ultimate relaxation and go through a once in a lifetime self-discovery journey within the beauty of Ubud's nature at our resort.
The Udaya Resorts & Spa is a perfect go-to destination for those who seek a zen state of mind, even more with our yoga retreat package. Leave your burden at the door and take on the private yoga class in our Sky Yoga Hut to ease your mind. The warm feeling of the sun on your skin and the wondrous view of lush tropical greenery. Venture into the villages of Ubud and explore into the locals' culture. Thereafter, experience a total relaxation through a detente 60-minute traditional Balinese massage. Step back from the cluttery world and achieve zen in the midst of Ubud's luxury.
Contact Us for Reservation